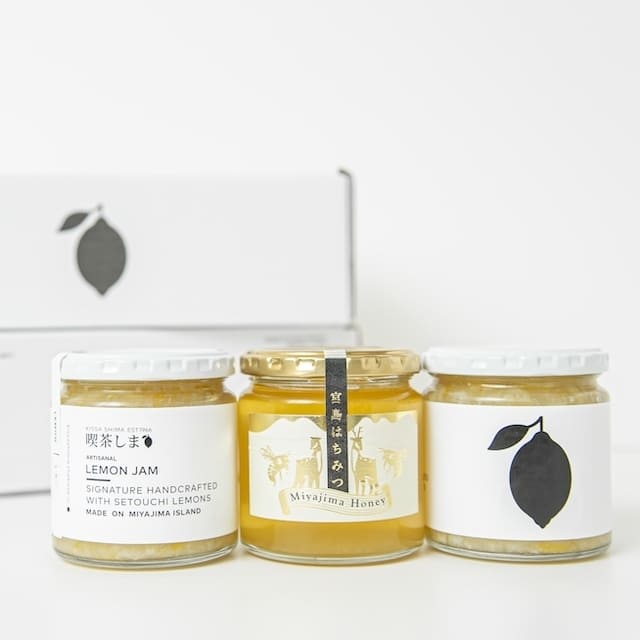 Miyajima honey & 2 kinds of seasonal handmade jams assorted
[Miyajima honey] 1 bottle, [Setouchi lemon marmalade] 1 bottle, [whole plum Ome jam] 1 bottle, assorted.
Estimated shipping time: 2 to 3 business days *Excluding Saturdays, Sundays, and holidays
☆Honey from Miyajima☆
Every year, nest boxes are set up on Miyajima from May to June, and honey is collected from flowers in full bloom in the mountains rich in nature.
Honey is collected by hand and carefully packed in a bottle.
Miyajima is close to the top of the mountain to the sea, so it seems that various kinds of nectar can be collected, from flowers blooming near the top of The Highest Mt. Misen to nectar of flowers blooming near the seaside.
Please taste the honey of rich and refreshing sweetness by all means.
☆Setouchi lemon marmalade☆
Sweet and sour lemon marmalade using whole lemons carefully raised in the mild climate of the Seto Inland Sea!
The lemon zest, which was boiled many times and softened, was cooked with only lemon juice and sugar to make marmalade.
It is a gentle sweet marmalade made only with lemon and sugar.
It can be enjoyed deliciously even if it is put on toast or mixed with yogurt.
☆Ome jam with whole plum☆
It is a plum jam that is handmade every year during the plum season.
The ome harvested in the field was exposed to water overnight, and the hesitation was carefully taken and cooked over low heat.
The large plum fruit was cooked so as not to break as much as possible, and packed in a bottle with thick syrup.
Take out only the fruit and mix it with yogurt and eat it, divide it with syrup with carbonic acid and drink it, apply it to browned toast and eat it, please look for your favorite way to eat.
〔Raw Materials〕
【Miyajima Honey】Honey
【Setouchi Lemon Marmalade】Hiroshima Lemon and Sugar
【Whole plum jam】 Ome, sugar
[Contents]
Miyajima Honey 300g
Setouchi Lemon Marmalade 300g
Ome Jam with Whole Plum 300g
[Best before date]
Until Miyajima Honey 2023.11
Jam 6 months from the date of manufacture
We will deliver products for more than one month from the shipping date.
(After opening, store in the refrigerator and enjoy as soon as possible))
Best before date: Miyajima Honey until 2023.11 / Jam 1 month or more from the date of shipment
| | |
| --- | --- |
| Weight | 100000 g |
| Dimensions | 1 × 1 × 10 cm |
Only logged in customers who have purchased this product may leave a review.