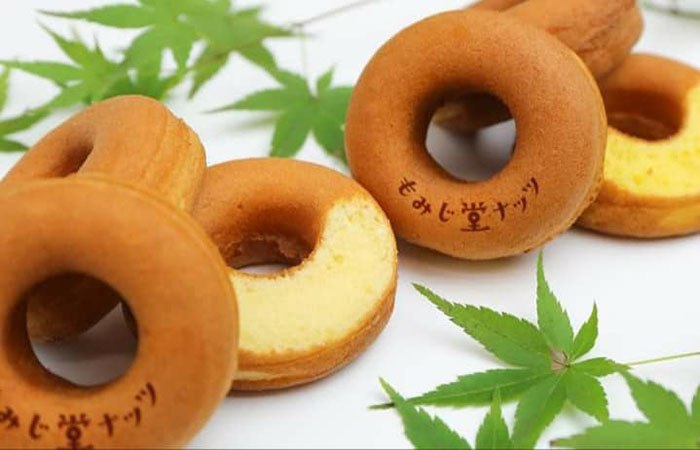 Momiji-do Nuts Vanilla Plain
Momiji-do Nuts", a new product from Miyajima Benihayado, baked using a Momiji-manju baking machine.
Momiji-do's Momiji-manju is made of sponge cake dough (seeds), which is baked to melt in the mouth with a light texture.
Based on this experience and technique, we made doughnuts based on financier dough. Financier is a delicious pastry baked over an open flame in the oven, with a crispy surface and a moist, buttery interior.
In "Momijido Nuts", I made it so that I can feel the moistness of the dough more by pouring the dough into a doughnut mold, closing it in a pinch type and baking it.
Estimated shipping time: 2 to 3 business days *Excluding Saturdays, Sundays, and holidays
Products eligible for flat-rate nationwide shipping of 400 yen for up to 12 pieces
Product Details: Momijido Nuts Vanilla Plain
Contents: 1 piece
Ingredients: eggs, vegetable oil, white sugar, almonds, wheat flour, glutinous rice flour, milk fat, rum, syrup, honey, vanilla beans, emulsifier (from soybeans), baking powder, flavor (from milk)
Shelf life: 5 weeks from the date of manufacture
We will ensure that the products have a minimum shelf life of 6 days when you receive them.
※ In the case of Hokkaido, Okinawa, remote island, the best before date when the product arrives may be 5 days.
Allergenic ingredients label: egg, flour, flavorings (derived from milk)
| | |
| --- | --- |
| Weight | 100000 g |
| Dimensions | 1 × 1 × 1 cm |
| 個数 | one (object), three (used in legal documents), two (objects) |
Only logged in customers who have purchased this product may leave a review.