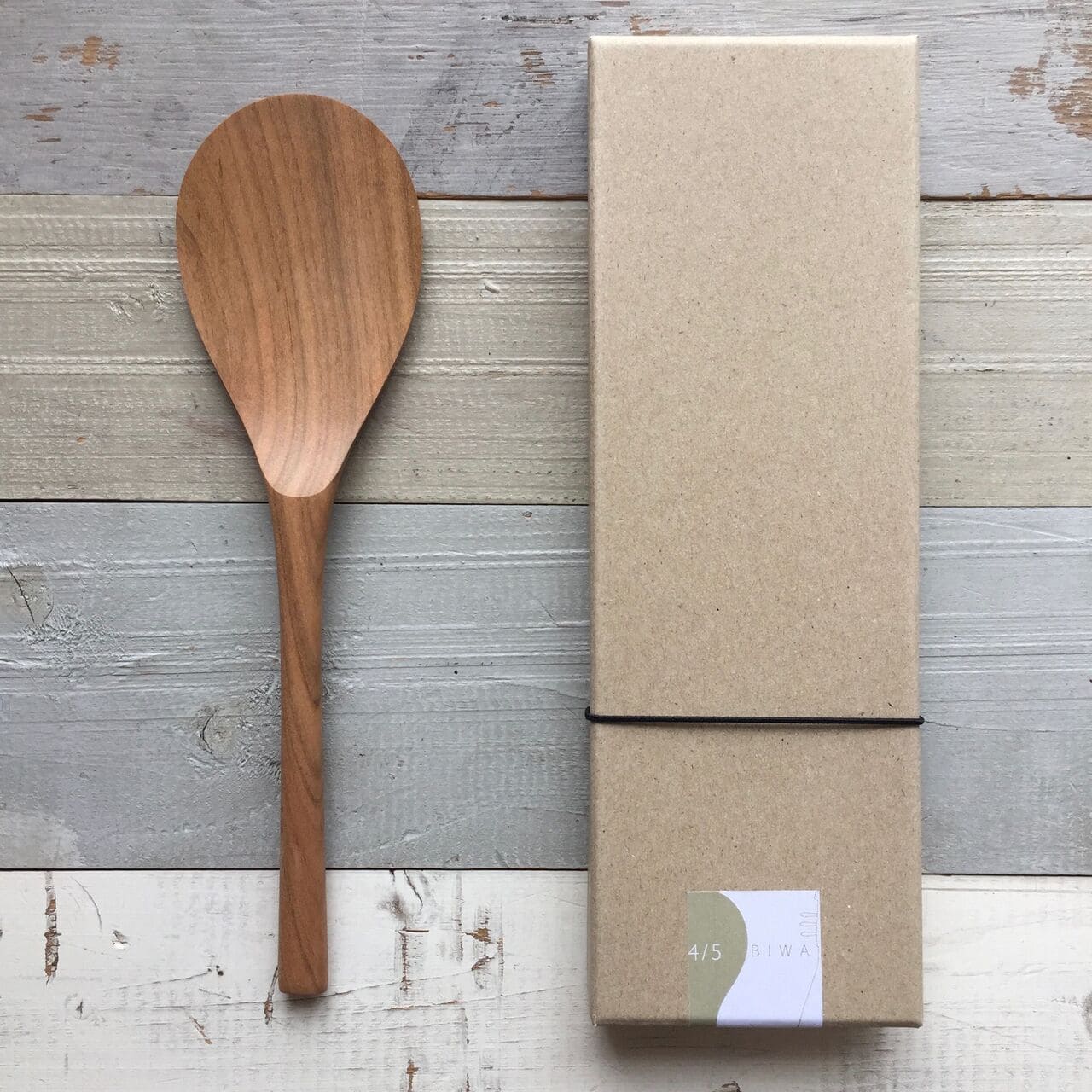 Miyajima Shakushi BIWA 4/5 Size Rice Bella
[Specifications, size]
Size (approximate): W5.8×L21.2cm
Weight (approximate): 26g
Material: Yamazakura
Country of Origin: Japan
Use category: Microwave oven ×, dishwasher ×
About care: With care paper paper
Estimated shipping time: 2 to 3 business days *Excluding Saturdays, Sundays, and holidays
【About Miyajima Shakushi】
The prototype of Miyajima Shakushi, which is said to be the origin of shakushi, which is now popular throughout Japan, was invented by Shinsenji's monk Oath in the Kansei period about 200 years ago.
In an era when food culture changed greatly from rice porridge to white rice, shakushi spread throughout the country as the latest kitchen tool representing the stetas of the time, and the ladle was also called Miyajima.
A streamlined simple design born from the fusion of the motif of the shape of the biwa of Itsukushima Benzaiten and the curves unique to hand shavings.
[Concept of "Miyajima Shakushi BIWA" design]
We will reread the prototype of the tool called shakushi, which is indispensable for Japanese cuisine, along with changes in eating habits and the background of the times, rediscover the beauty of the prototype, and at the same time propose a new size and usage (6 patterns: cooked bella, rice bella, rice bella (small), jam bella, spoon, butter knife).
[Features of the product]
The appeal of a streamlined form that can only be realized by the skilled sense of minion and adjustment technology of craftsmen, sticking to finishing carefully selected natural materials only by polishing
Craftsmen carefully prepare the wood skin with six types of parlths (normal ladles use a few types of sly).
Not only the good texture of the surface, but also the maintenance is facilitated.
In addition, in response to DIY needs, we sell paper paper sly as a set with products, and propose to make your own dish while caring.
The prototype of the swearing-in ladle has been reduced to 4/5. It is the most popular eye tim of "Miyajima Shakushi BIWA" series. It is just the right size as a rice bella.
(Ladle, Ladle, Miyajima)
In general, the one that the one like the rice is spatula-like is a ladle character (shamoji), and the one like the spoon which scoops not only rice but also the sign (shakushi). I use it according to the shape.
In Miyajima, the one that rice is called the ladle oppositely.
Miyajima Shakushi, which spread throughout the country, was also known as "Miyajima" because it is stamped with a miyajima brand.
[Specifications, size]
Size (approximate): W5.8×L21.2cm
Weight (approximate): 26g
Material: Yamazakura
Country of Origin: Japan
Use category: Microwave oven ×, dishwasher ×
About care: With care paper paper
Manufacturing: Kuramoto Ladle Factory
Design: Hakata Shoten Co., Ltd.
| | |
| --- | --- |
| Weight | 500 g |
| Dimensions | 1 × 1 × 15 cm |
Only logged in customers who have purchased this product may leave a review.