Writer:Daiki Hamamura
 I have been with the company for 10 years and have been involved in event management and "work" at the information center as a tourist association employee.
 On the other hand, I have always enjoyed "fun" in Miyajima, such as drinking with friends, enjoying Miyajima's gourmet food, climbing mountains and visiting shrines and temples.
 As a person who loves Miyajima, I will provide you with information that you can't find in other media, so that you can have a good time, based on my experience of both work (dealing with customers) and play!
"What do you recommend about Miyajima no Yado Iwaso?
"At Iwaso, time flows in a relaxed and gentle manner." I have always felt that way in my 10 years of working for the Tourism Association.
It's a healing inn that calms people's minds, and this article will show you why it's so peaceful!
But of course, that's not the only attraction of Iwaso. Here's a quick rundown of what I personally find attractive!
An inn where you can relax and stretch your wings. Hot spring, nature, room, service, everything is for healing.
The private "hot spring" located in the Momiji Valley and the high quality "cuisine" that makes you feel the four seasons are especially wonderful.
The inn has a "special feeling" that only a long-established inn can offer.
 We have entertained former orders of the Meiji era, including Prince Hirobumi Ito, many literary figures, members of the Imperial family, and dignitaries from various countries.
 It's been done.
Now let me explain in detail!
access
Whether you are going, returning, or sightseeing, access is convenient. Or, more accurately, it's easy to get around.
Easy sightseeing in a good location and good service.
There are many sightseeing spots around the ✅ inn.
✅Minimum time to reach most attractions is around 5 minutes.
✅It is close to everywhere, so you can go back to your room and rest (popular with seniors).
✅Delivery of luggage from the inn to the pier on the way home! So you can shop empty-handed in the shopping district from the inn to the pier.
Please refer to the diagram below for a more detailed summary.
The hotel is located in the heart of the city, in the heart of the city, in the heart of the city.
room
Even when you go from the front desk to the inside of the hotel, you can feel "Japanese" and "history".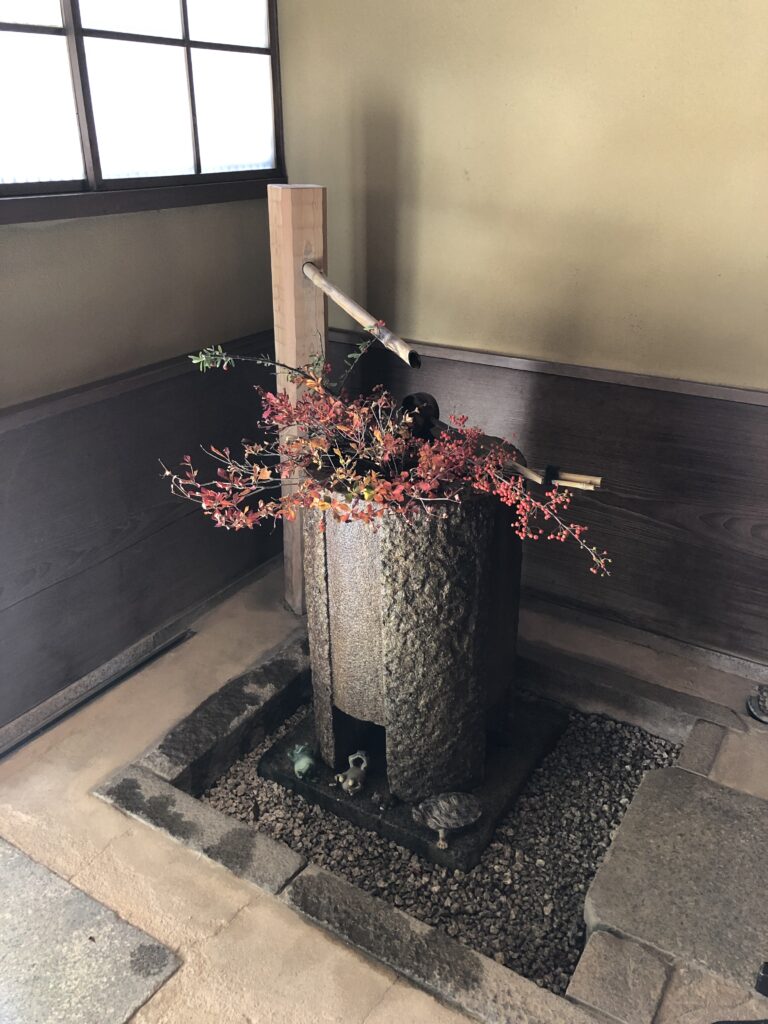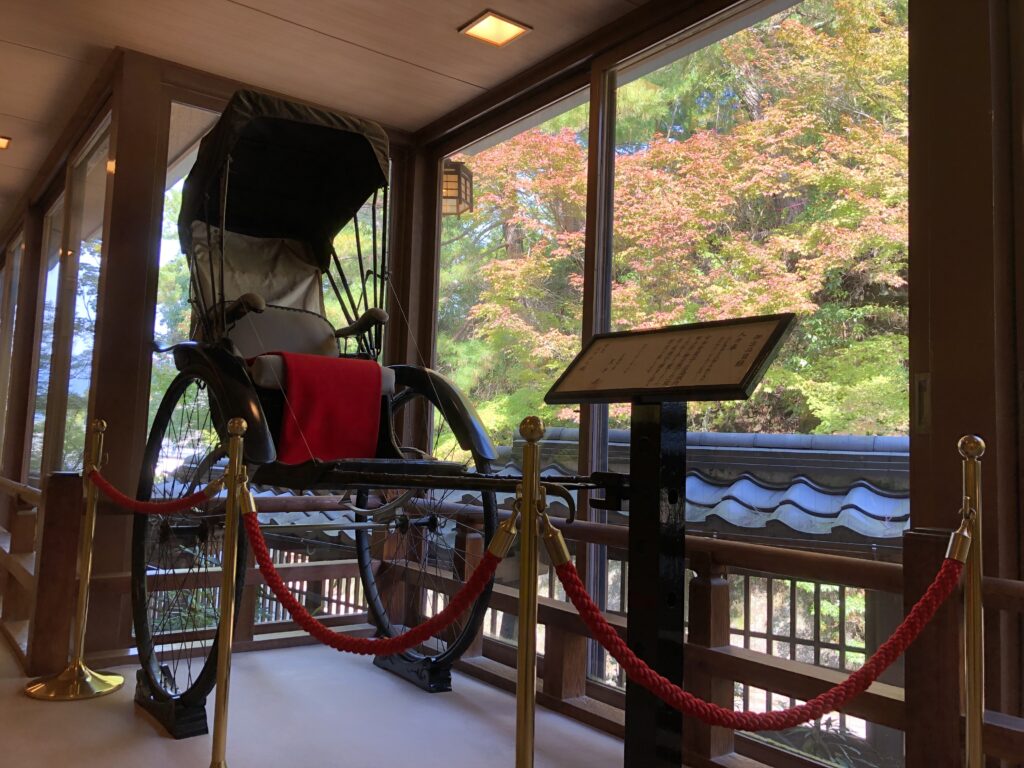 There are three types of rooms as follows
 kotoh new building guest room
 kotan (Japanese textiles)
 korozu korozu(The following video is a room tour of "Kinfu-tei")
Embraced by the gentleness of the wooden architecture, you might be tempted to laze around for hours.
Beautiful trees and streams can be seen from the windows, and from the higher floors you can enjoy a magnificent view of Itsukushima Shrine and the Otorii gate beyond the thick forest of trees.
Writers such as Mori Ogai and Natsume Soseki have stayed here, and it's a gentle environment that actually seems to inspire their works.
The view varies depending on the location and floor of the room. Please be careful when you make a reservation.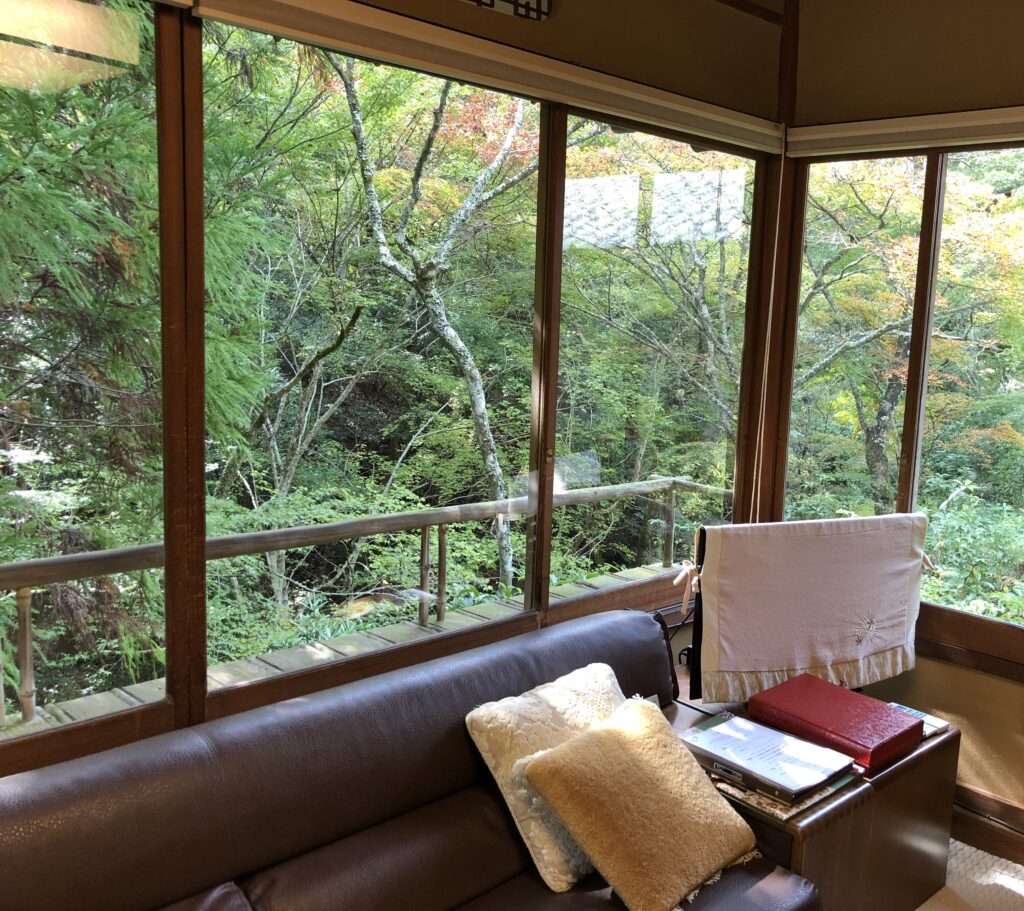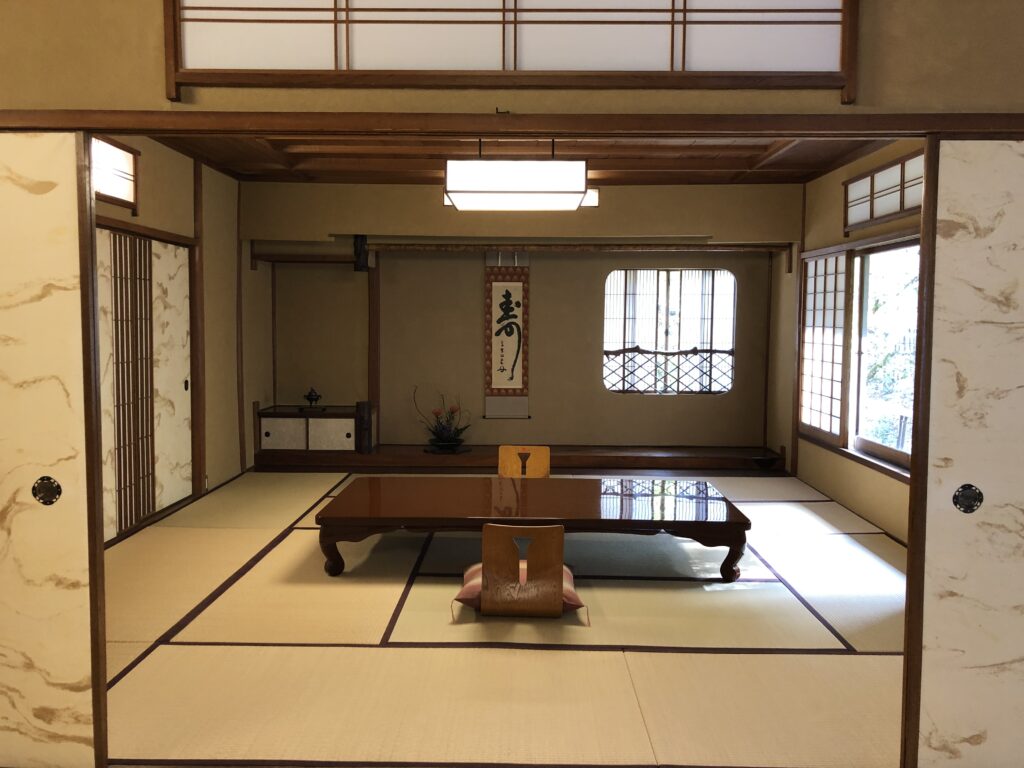 In addition, Kinpu-tei was once the venue for the working dinner of the G7 Hiroshima Foreign Ministers' Meeting, attended by Foreign Minister Kishida (the current Prime Minister).
Reference: Ministry of Foreign Affairs official website
https://www.mofa.go.jp/mofaj/ms/is_s/page4_001935.html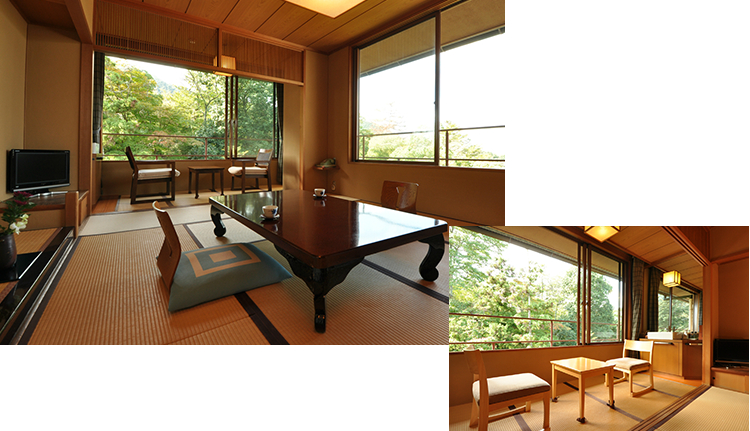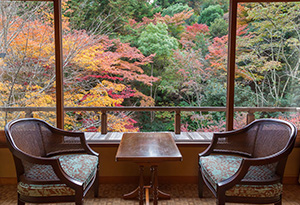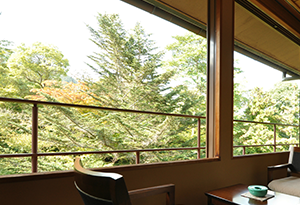 Why does Iwaso feel so at home in his room? I thought about that and realized.
"It's… From the room, you can hardly see people or man-made objects that remind you of everyday life, but only nature and shrines. All you can hear is the murmur of the stream and the sound of the wind. "It's a place of nature.
It was as if I was standing alone in a quiet forest, bathing in the forest, even though I was in my room.
At Iwaso, we were able to catch a glimpse of the "master craftsmanship" of the architects who create these environments.
By the way, Iwaso is an inn in Momijidani Park.
At night, the Iwaso grounds are lit up in an understated way so that visitors can enjoy the view of the park.
Unlike the daytime, the nighttime is empty and you can enjoy the beauty of nature and the murmuring of the stream.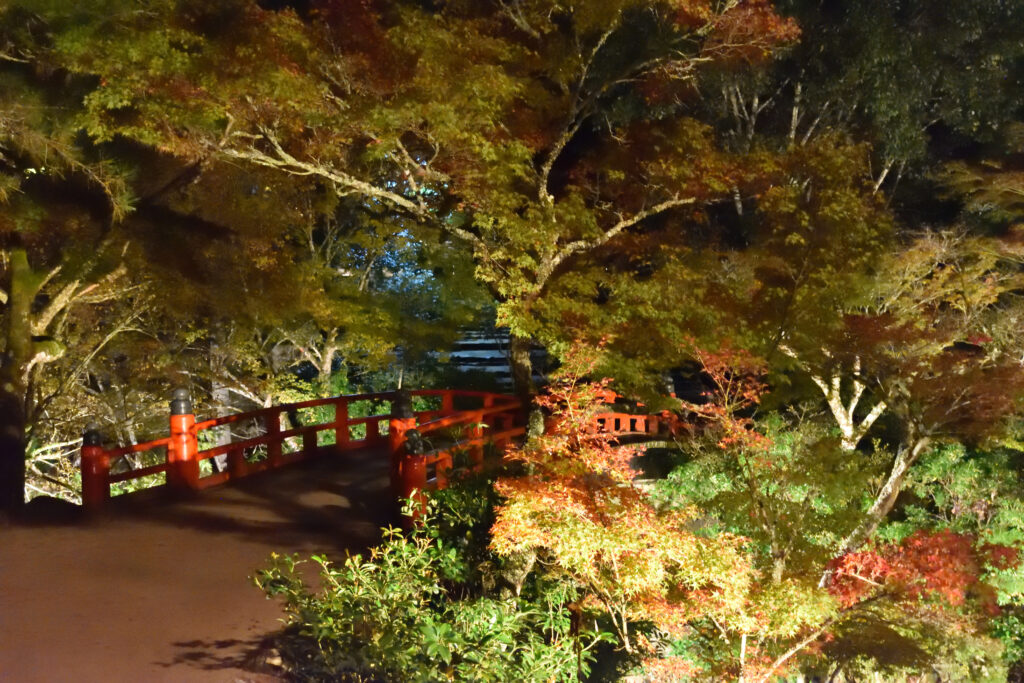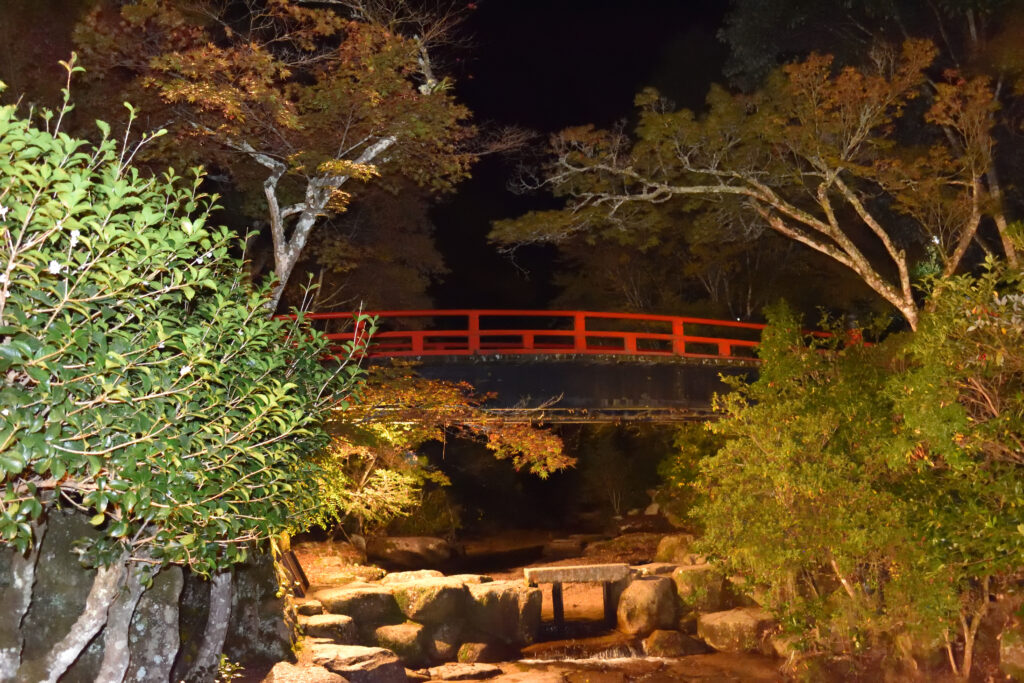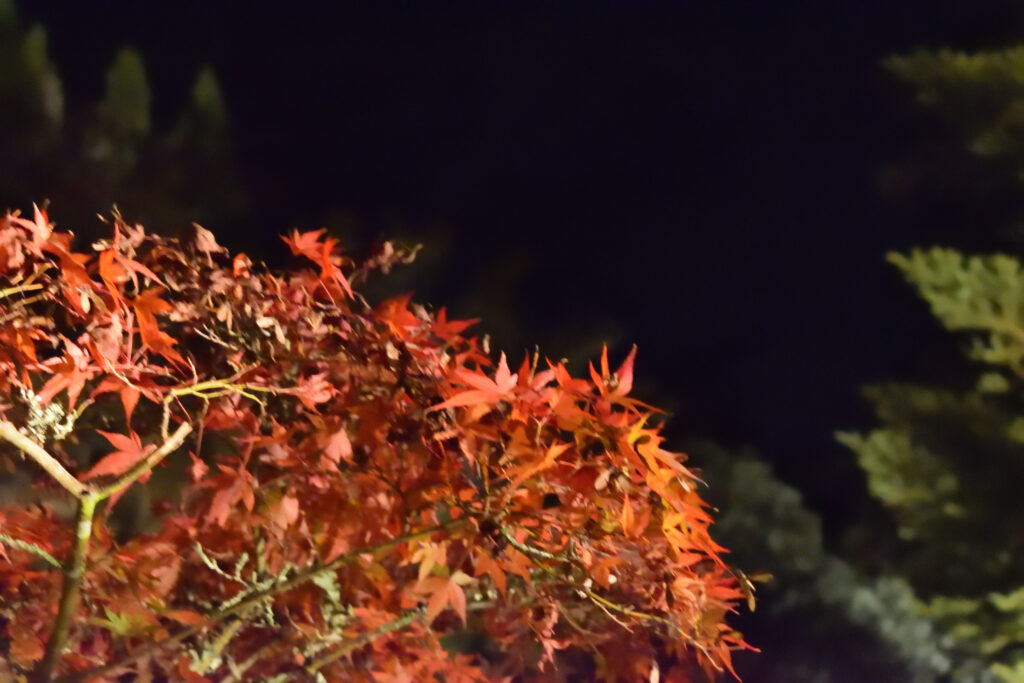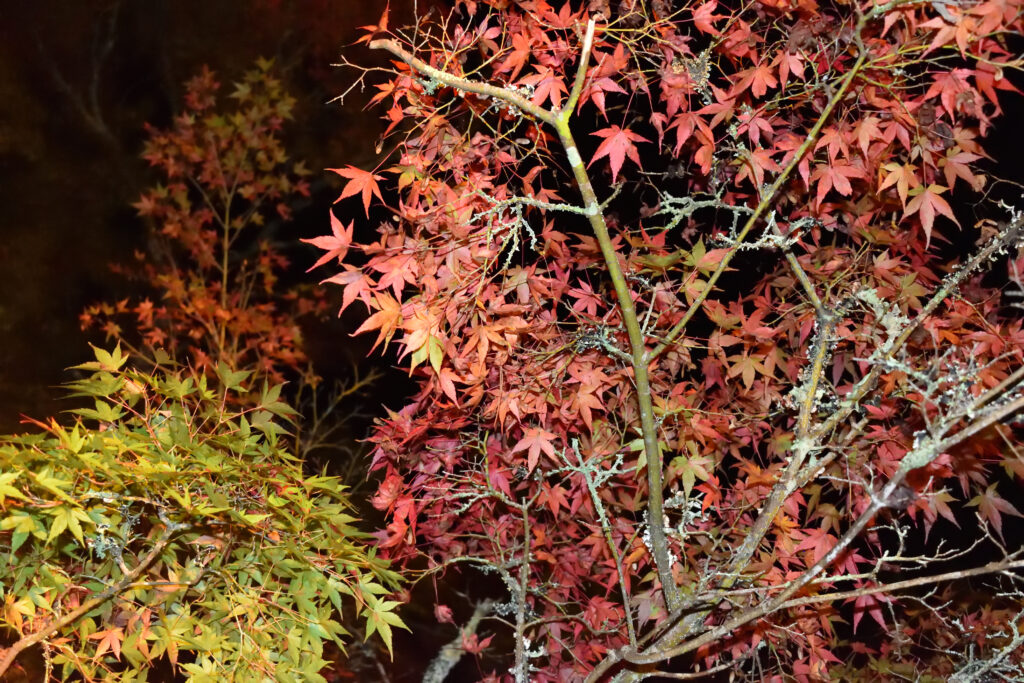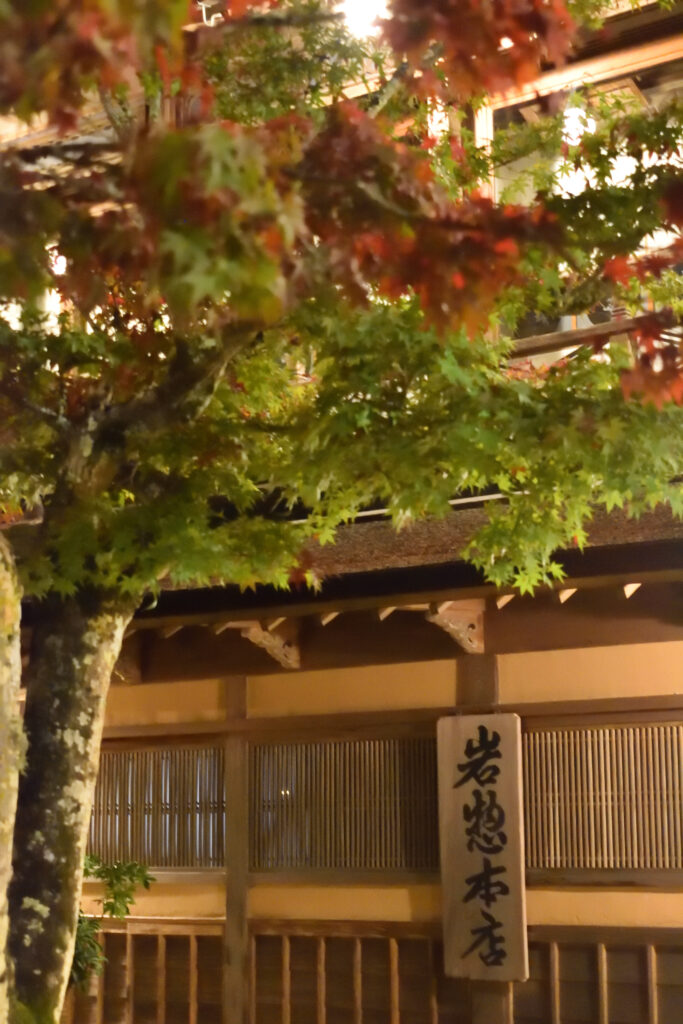 meal
"Our chefs are dedicated to preparing the best of the best from the sea and the mountains. We offer a reliable "deliciousness" that is true to the basics.
We use a lot of seasonal ingredients and change our menu basically every month.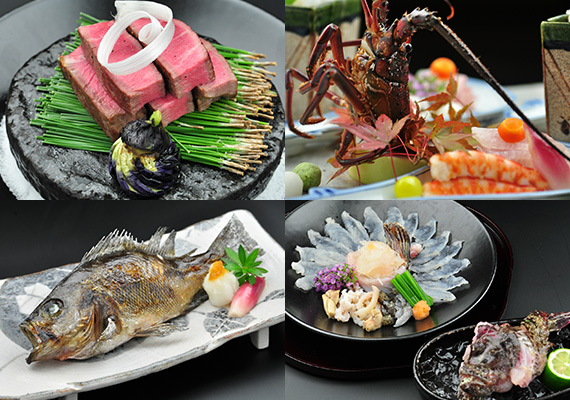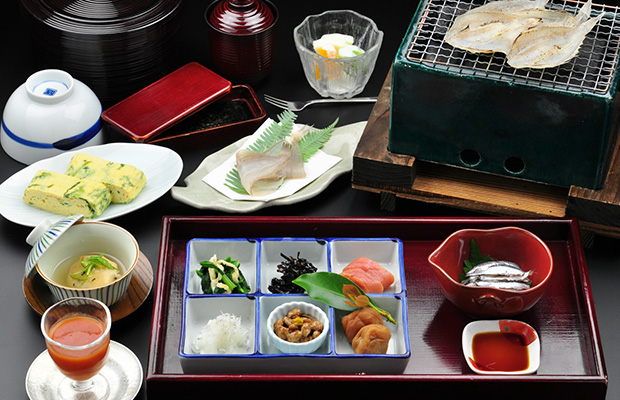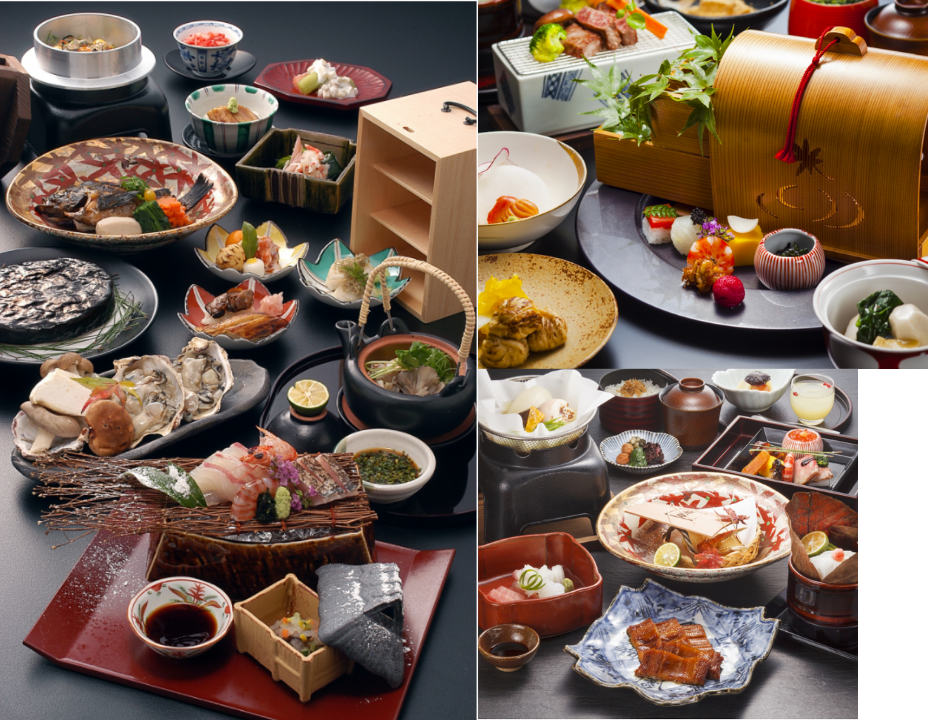 Bath (hot spring)
It is a natural hot spring, which is rare in Miyajima.
In the healing nature that blends in with the nature of Momijiya Valley, you can sometimes see deer on a walk.
We offer the following two types of hot water.
 kotatsu Hinodeyu(large bath + open-air bath)
 kotoh Tsuki no Yu (large bath + open-air bath)
We will change the sexes in the morning and evening, so you can enjoy both hot water!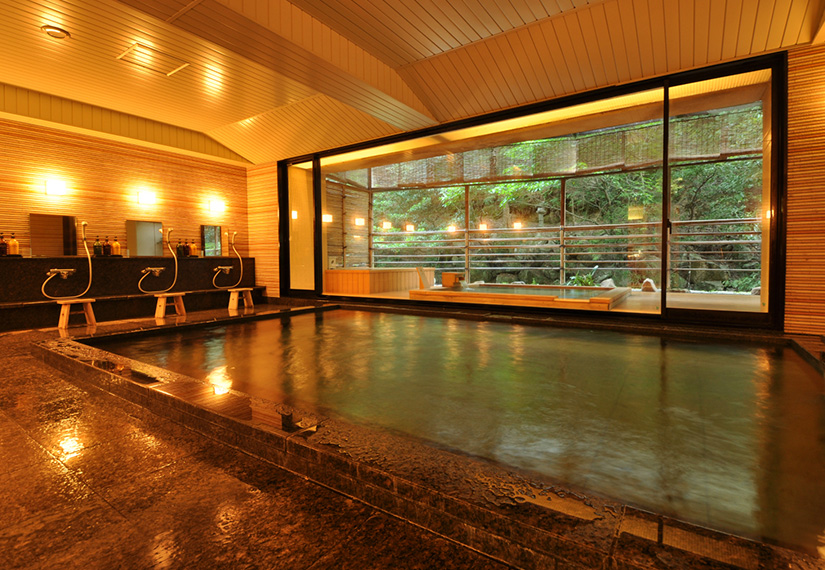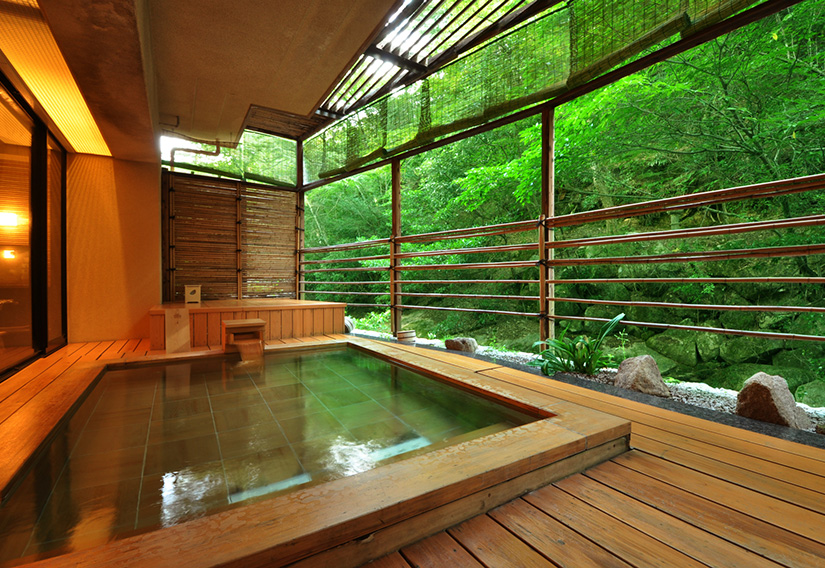 Momijidani Park is beautiful during the fall foliage season, but as you can see from the photos, the fresh greenery is also beautiful.
Wakamiya Onsen is always beautiful, but around May to July, the fresh green is beautiful and I personally recommend it especially!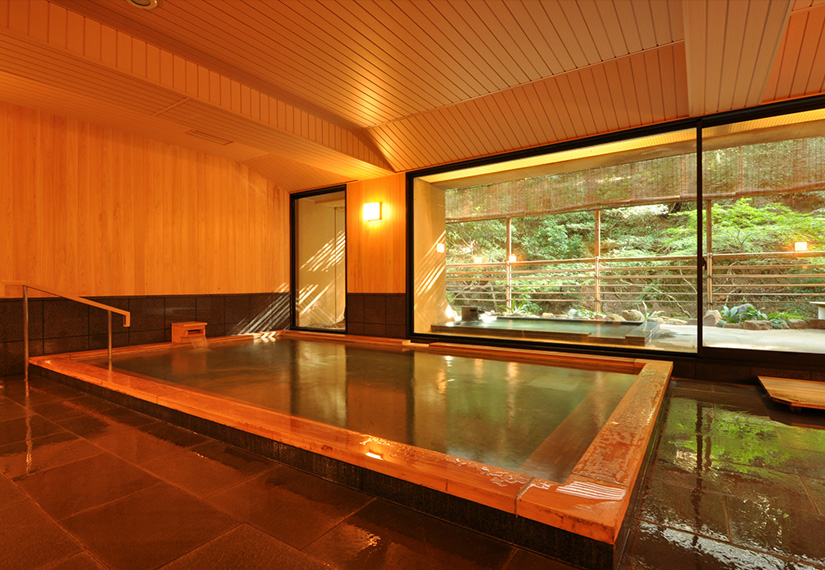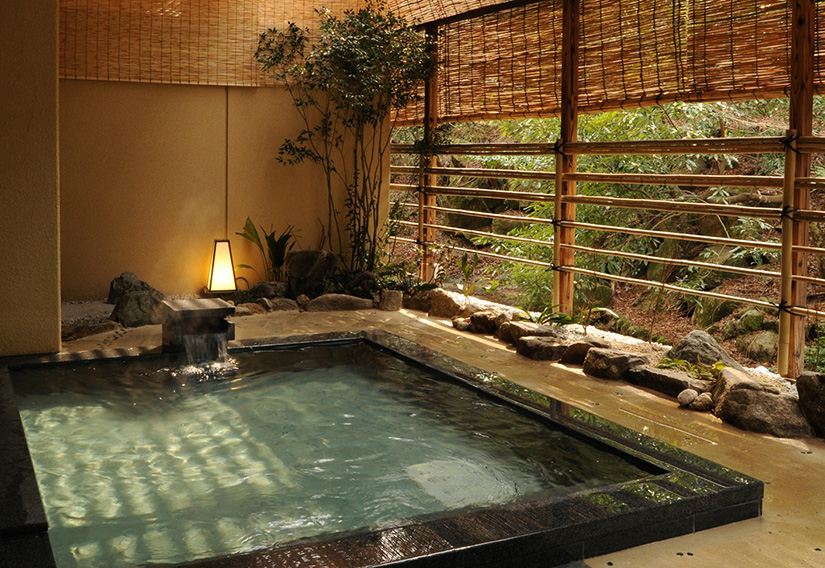 You can see the video of "Tsuki no Yu" in the following video.
service
Iwaso's history is a history of hospitality.
I had such an impression of Iwaso that I interviewed the proprietress about the hospitality (service) of Iwaso, where many important people from various associations continue to stay.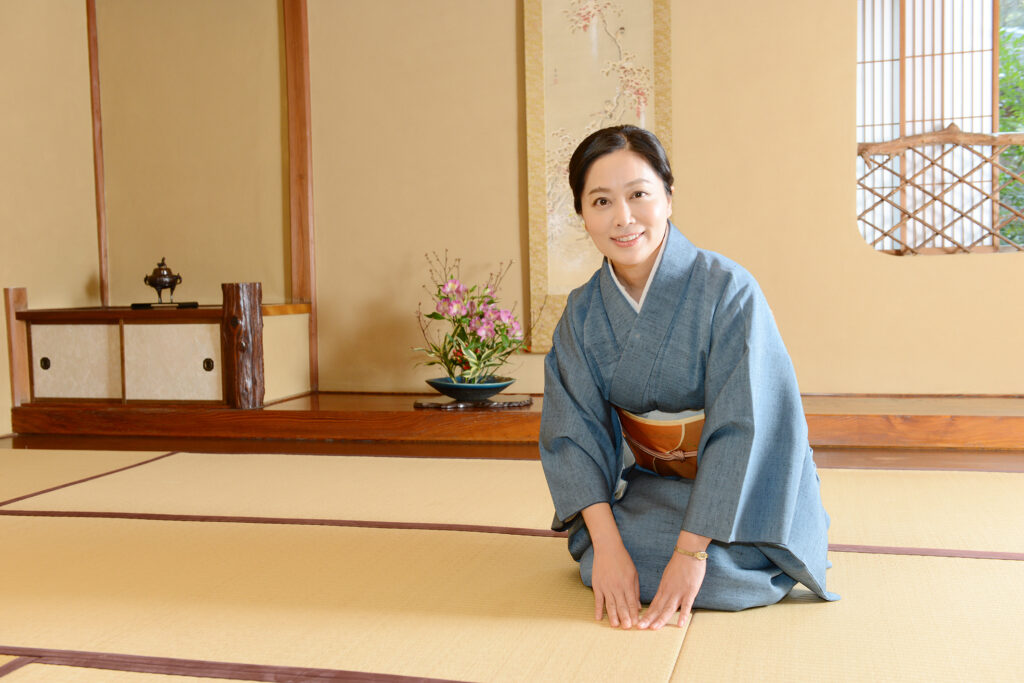 Tamaki Iwamura, the seventh-generation proprietress of Iwaso

 Miyajima is home to the changing of the seasons, the presence of gods and Buddha, and the gentle and majestic beauty of nature.
 The proprietress, who loves Miyajima herself, continues to offer her hospitality to guests, hoping that they will experience the splendor of Miyajima.
 The warm personality is also the secret of our hospitality.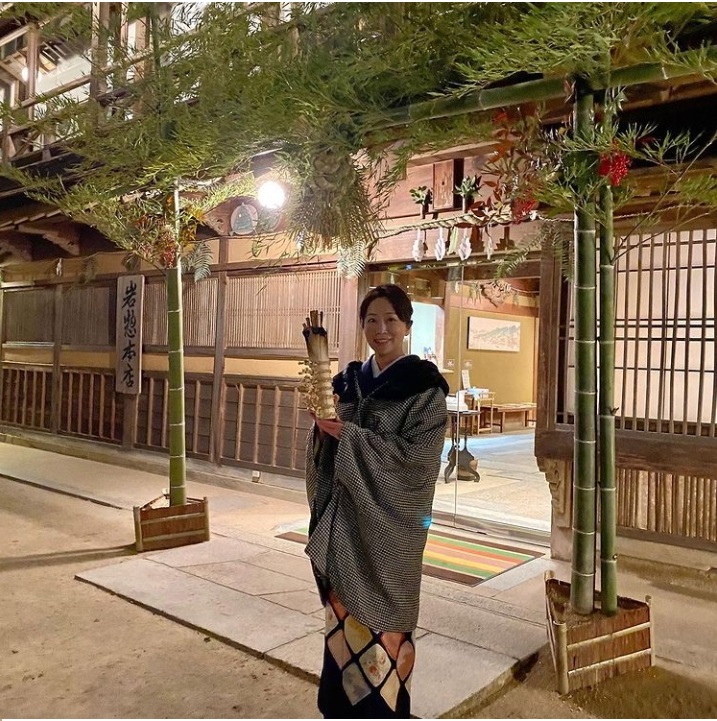 — What is the most important thing for the proprietress in dealing with customers?
 In a word, we place importance on "being aware.
 As we chat with guests, we learn about their various needs and desires, such as wanting to try raw oysters for lunch, feeling sick, or wanting to surprise a friend who is staying with us on his or her birthday.
 In many cases, we can find out requests that were not known at the time of booking. In addition, there are some questions and requests that come to mind only after you arrive at Miyajima.
— Thank you. "To be aware" may be more than direct words, but also "to know by guessing".
 Yes, that's right. To tell you the truth, there are a lot of people who are reserved, and we don't get to hear their requests directly from them.
 Therefore, it is important for us to find out your hidden requests from every conversation. I think this is important for hospitality. We are conscious of understanding your feelings and providing hospitality that is close to your heart.
 Also, although it may seem presumptuous, one of the things we value is to give you a "warm feeling".

— Is it the same for other staffs that they value "noticing" and "warm feelings"? Is it the same for the other staff?

 I feel that way.
 Rather than me telling the staff what to do, I feel that each staff member is working on their own to achieve a higher level of hospitality, influenced by the expectations of our customers and the fact that they are carrying the Iwaso sign.
 I think you value "noticing" and "warmth" as much as I do.

— Are there any happy moments in your work?

 It is one of our joys to have guests who come back again and again, and to have several generations of guests staying with their children and their children's children.
 We are happy and grateful when you tell us that you came back to our inn because you were pleased with our hospitality when you stayed with us before.
 We would like to continue to be an inn that our guests can enjoy.
"The following are some of the questionnaires from guests of Iwasou, who place great value on hospitality.
summary
At Iwaso, you will find that you can spend a relaxing and leisurely time at the following points.
Relaxation♪ Surrounded by nature, hot springs in secluded rooms with glimpses of artisanal craftsmanship. Low burden access
Our warm and attentive hospitality has received many compliments from our guests.
In 2008, the G7 foreign ministers enjoyed the taste of Iwaso.
Please feel free to contact Mr. Iwaso for inquiries about lodging, etc.Â